The following is a diary that I kept while in Mexico. I went to Mexico as part of the Colorado Mountain Club's High Altitude Mountaineering Section. Our plan was to climb two mountains; El Pico de Orizaba (5611 meters/18,410'), and Iztaccihuatl or Ixta (5230 meters/ 17160'). While there we also climbed La Malinche (4462 meters/14,640') due to change in our itinerary. Usually people try to climb Popocatepetl or Popo (5465 meters/17,930'), but it is current erupting and unclimable. Smoke bellows from the crater 24 hours a day and it may blow like Mt St Helens at any time. These mountains are higher than any mountain in the lower 48 states.
Day 1
The time has finally arrived….sitting at Lambert Field Intl Airport waiting for the flight to Houston. It is gray, cloudy, and spitting rain outside with the temperatures in the 40's. Ray was kind enough to take me to the airport. I definitely have mixed feelings considering the being away from the family during the holidays.
Met Terry and Jack at the Houston airport and we boarded the flight for Mexico together. I arrived in Mexico City on time and took a people mover from the airplane; everything went smooth until we went through Mexican customs where you push a button and it directs you at "random" to have their bags search or whether you can pass straight through. It is a red light, green light affair….and I got the red light. Jack and Terry made it through but I had to open my bags. They looked at all of my packaged food and then focused on the large package of beef jerky I had in the duffel. The female inspector called over a male supervisor and he said he had to confiscate the jerky and not let it enter the country. What he was really saying was "I am going to take this from you and share with my coworkers!" — so my jerky left me at this point.
We got a taxi and went to our hotel; The Hotel Vienna, actually quite adequate. We then went for a walk and stopped at an outdoor grill/cafe where we ordered beef (carne) tacos. While we were waiting on our food, sitting outside on the outdoor cafe, Terry pointed at my feet and said there was a rat by my feet — which I promptly lifted. It then ambled under some other tables prompting some women to scream. It actually seemed quite tame as it scurried back to the sewer gutter in the street! We then went back to the hotel after eating and turned in for the night.
Day 2
I skipped breakfast, but grabbed a croissant at a bakery — while Jack and I were walking to Chapultepec Park where all of the museums are. We toured the National Museum of Anthropology, supposedly the best of its kind in the world. Lots of children from different schools were visiting; all in their different uniforms. They were all very polite and well behaved.
While I was sitting on a stone bench near the main fountain in the center square I was suddenly swarmed by about 30 grade school children, mostly girls. They were practicing their English and wanted to meet people from all over the world. With their nonexistent English and my sorry Spanish we used their maestro (teacher) to translate. They wanted to know all about me and my family and they took my name, address and phone number. I was able to get a picture of the whole group before they had to leave.
We had lunch in the cafeteria– good guacamole! Met a retired guy from Oregon – he was quite a character. He had been married twice for 23 years each and now just travels and dates. He had fallen down on the walk to the park but a local Mexican citizen had picked him up and taken him to a local medical office where he got attention to his cuts and scrapes. He was wearing a butterfly bandage on his forehead. The medical service was free! Jack and I spilt up after lunch and I walked through the park for exercise until 1400 then walked back to the hotel. On the way back I stopped in a market and got some bottled water
Day 3
Yesterday we picked the rest of the group up at the airport. Terry came back from his scouting trip to the mountains with a couple of problematic facts – #1 The snow pack is a lot less this year than in previous years and the snow that is there is ice. #2 The road to Ixta is closed on Sunday, Monday, and Tuesday so we made the decision to go to Senior Reyes. It was a tiring three hour van ride to the hacienda. We all went to the Casa Blanca, a local restaurant for diner after claiming our bunks. The area where you stay is in a walled compound with a cooking and gear area on the bottom floor (sort of like a barn) and the sleeping area are on the top floor and is dormitory style with bunk beds. We organized our gear for today and hit the sack about 9:30pm. Another group came in about midnight but ear plugs did their job.
I awoke about 0530 to the sound of an explosion followed by the ringing of the bells in the town square. I usually get up when I hear explosions so I wandered downstairs and saw fireworks being shot into the air. We put some water on and had oatmeal — got to quit eating that stuff. The morning dawned clear and warm (even at 8500') as we prepared to leave by 0730 to drive to our first alternative, La Malincha at 14,640 which if I get up it will be a new altitude record.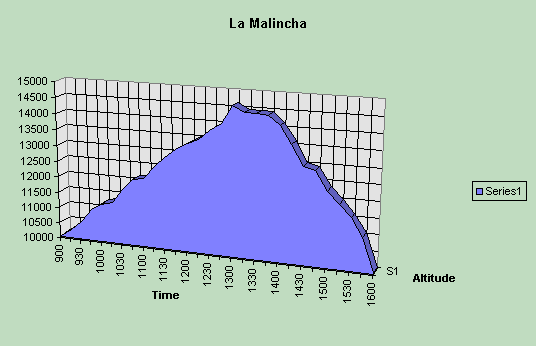 I made it! 14,640' – La Malinche. It was hard like any CO 14er, but I did not suffer any more or any less coming from 340' in St Louis. It was about 1.5 hour drive and we parked at the Mexican Olympic Training Center high on the mountain in the trees. They would not let us drive to the actual trailhead so we had to add 1500' and six miles to the climb. We switched backed up the road and passed a deserted building where the road came to the end. From here you head straight up. We broke from tree line and were faced with a scree/sand gully that took us to an airy ridge. There were Mexican men and women all over the mountain hiking it. It was hot; we were in t shirts and shorts and I got sunburn! On top we had views of Popo and Ixta. All of the while we were climbing you could hear explosions from Popo. (We later found out that this was not the case as we never heard them when we got closer to Popo) On top was a steel cross. The return was uneventful and we got back to a hot shower by 1700. We all then went back to the Casa Blanca for enchiladas. Because I was served last, I got four enchiladas! Tomorrow we head up to the hut at Pierre Grande at 13,900' where we will make an exploratory climb to the glacier at 16,000' to check out conditions. There has been three deaths and five injuries on the peak in the last two weeks.
Day 4 Sitting in a hut with 20 of my closest friends at 13,900'… Had a freeze dried dinner and it went down pretty good. Never slept at 13,900' before….we will see how it goes. The ride up was 20 miles and took 2.5 hours in the back of a 1954 Dodge truck wheel drive. Ouch! Tomorrow we head up to the glacier to check conditions. Hope to make it to 16,400'!
Day 5
Got to 15,700', just shy of the glacier. We made a route finding problem (error) that took us on some LOOSE rock up the side of a small snowfield. Four people made it to 16,000, one turned back. Tough day, tomorrow we try for the summit.
Day 6
We awoke at 0200 for a 0300 start, and then up the same blasted "trail" we went up yesterday. When we reached the first ice field we put on our crampons, got out our axes and prepared to rope up. At this point it was about 0445, still very dark and we used our headlamps to arrange equipment. Two team mates said that they were not feeling well and wanted to return from the hut. One member had not left the hut, knowing that he did not want to go up that trail again in his plastic boots. We had hiked up the trail by the light of the full moon prodded on by a stiff cold wind. The group had now dwindled to Terry, Jack, Lynn, and Denise and I.
The ice field was solid ice at about a 30-40 degree angle. The beam of my headlamp illuminated where I needed to place my crampons. This was definitely a no fall area….Jacks' crampons came off twice and we all had to pause on the ice while he wrestled with keeping them on…it was not a pleasant experience. We exited from the ice field near the top to a shallow angle group of rocks gain the ridge. There was another party with their Mexican guide, Roberto, who was fixing a rappelling line to belay an injured or sick climber back down the ice field. We topped out on the ridge and the mountain rose before us. It was extremely cold and I had to put on mittens and my wind pants. We started up the glacier which was icy with the sunrise reflecting on the slopes. The sun was rising a brilliant orange over the thick clouds that shrouded Veracruz and the Gulf of Mexico.
I was the last on the rope of five and the pace was a bit high for me. It may have been slower near the front of the rope but I appeared to be getting the whiplash affect and was not able to simply do a rest step pace. I ascended to the headwall where I explained to the group that although I was feeling fine at 16,600' I needed to go slower. They offered to slow down, but I saw the writing on the wall. I could make it to the summit, but that was only halfway and I may be too tired to descend safely. With the steep headwall looming I knew I could not solo back down that safely.
So I made decision and untied from the rope. I turned and examined the rocks some 650' below me. Between me and the base of the glacier was an icy slope at about a 30 degree angle. Doesn't sound that bad but basically I could not afford to make a mis placement as a slip would send me to the rocks at about 80 mph with little chance for self-arrest. I think it took me over an hour to side step down that 650', all the while I had lots of time to think about Debbie and the children. I felt confident I had made the right decision to turn back so that did not weigh on my mind. On the way down I passed a rope team coming up going at a slower pace …the pace I needed to go at.
When I reached the rocks at the base of the glacier, I smiled to myself that I had completed the character building exercise on the icy descent. I was still at 16,000' when I reached the rocks and I was originally going to wait for the rope team to return to descent with them, but I started to get cold and unable to keep warm due to the stiff wind, so I decided to descend. I started the scramble down the left side of the snowfield, always checking to see that I could up climb any part I went down so I did not get stuck at the top of a box cliff. I made it down to the climbers trail and descended it to the hut at 13,900'. My first thought was that a shower sure would feel good! A new altitude record at 16,600' and a turnaround decision that was right. The descent of that icy 650' had tested me and I had met that challenge also so I was pleased. The other four made it up in good time.
After a two hour jeep ride back down the mountain to Tlachichuca that was not any more pleasant than the ride up, we had hot showers and put on clean clothes…did that feel good! We went to the other restaurant in town, a pizzeria. We ordered everything on the menu; fries, pizza, beans, tortillas, etc. The owners also brought out stuff that we did not ordered just cuz we were eating and drinking so much! The total bill was 240 pesos or about $32 for eight hungry adults. We all chipped in $30 pesos ($4 US dollars). Everyone was tired and ready to turn in for the night.
Day 7
We loaded our gear into the rental van. Then Terry called a team meeting and told everyone to bring their camera. He set up a piñata on a climbing rope and each person blindfolded took turns swinging at the piñata until it broke, showering candy everywhere. Then we all went to breakfast to burn some extra HAMS pesos from our budget. 60 pesos for seven people having a full breakfast — about $8!
We put one of our team mates on a bus to Mexico City to go back to the states. We then headed toward Amecameca where we stopped at the town market to do some shopping. I bought a knife for my son, a piñata for my daughter, earrings for my wife, and mango juice for me. We found a quiet motel down the street and got three rooms. Tonight we will go out to dinner, get to sleep early, and get up at 0200 to drive to the Ixta trailhead. Our dinner this night was at this place that appeared to be closed, had hardly any lights and served a set meal that was not that great. Not the best meal to have before a big climb but we learned a lesson. By this time, everyone in the group except for me and one other member had some form of a mild traveler's diarrhea or upset stomach. I thought eating the guacamole would do it for me but I felt just fine. Again, we were in bed by 9:00pm.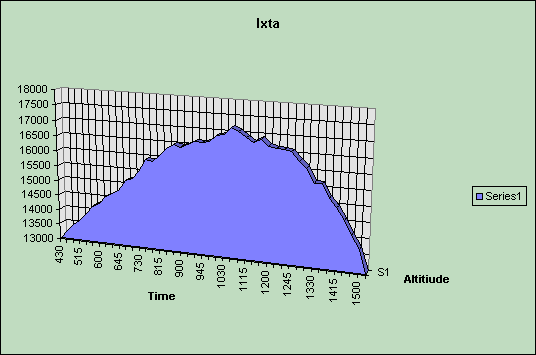 Day 8
We did it! … and the climbing on this trip is over. We were all successful today summiting Ixta. We awoke at 0300 from our motel rooms and loaded in the van for the one hour drive up the mountain to the trailhead. I slept on the floor with my sleeping bag and Terry and Jack shared the king-sized bed.
Anyway…. hiking by the full moon again we started at 13,000' and by sunrise we were already at 14,000'. We reached the first hut at 15,000' and began the rock climbing portion of the route just above it after a steep scree slope ascension. It was class 3/4 scrambling up to 16,000'… we reached the last hut, a golf ball shaped metal structure, donned our crampons and crossed the first glacier. We then climbed more steep ridges and crossed two additional glaciers. The Mexican Alpine climbing team was also on the mountain and they were sponsored by Corona Beer. A Corona Beer truck had actually brought them to the mountain! At about 1030, Terry reached the summit, followed by me, Denise, Lynn, Jack, Sanja, and Steve. It was somewhat remarkable for Steve as he had actually turned around at 14,000' but changed his mind and continued on with us, reaching the summit!
17,200' — a new altitude record and I felt great, but a bit tired and we were only halfway there as we still had to get down safely. There was enough energy to do the Macarena on top but that was about it! We all took off back down the glacier at our own pace to meet back at the golf ball hut before descending the steep part. After crossing the last glacier, I took off my crampons, ate a sandwich and a GU packet and continue with the others to the hut to rest. The wind was fierce on top and this also hastened our retreat.
The descent of the harder sections went easier than expected and we were soon back on the trail headed to the van that was a speck in the distance. When I got to the van, Terry and Denise and Lynn were starting to change the back tire that was flat. I assisted with the Jack and soon we were on the way down the mountain while the Mexican Alpine Team toasted their success with beer. I had decided to finally have a beer tonight after more than a month of abstaining from drinking alcohol! Tomorrow we head back to Mexico City and I am going to try and get an earlier flight out on Saturday…do not know what luck I will have but I cannot wait to Debbie and Ben and Kate. With the extra days in Mexico City before the climbing, I am ready to skip the return hotel stay.
We had a good dinner at a "western" restaurant across from the motel last night. Lynn and I spilt a large pollo pizza and also had fries. You just crave some fat in your diet after climbing. I finally broke down and had two Corona beers. I had packed my duffel after the climb last night so I was ready early this morning. We went back to the same restaurant and had breakfast this morning and had pancakes. We bought Terry a really nice framed picture of Ixta and presented it to him. He was very pleased I think as it is a beautiful print and it is his favorite Mexican volcano. We drove into Mexico City and I acted as the "navigator" watching our right side. When we got to the airport, I went immediately to the Continental ticket desk and asked if they could get me out a day earlier. There was a flight in 30 mins that had been delayed so she said she could. My duffel left me and I went over to the group to say good-byes. Terry was still turning the rental van so I intended on sending him a note since I missed him. I then exchanged my remaining pesos for $ and hurried off to the gate to catch the plane.
Day 9
Winging my way home to St Louis! The flight into Houston was late. I sprinted through Immigration, then to baggage claim to get it to go through customs. My duffel was one of the last to come off but by that time, the line through customs had dwindled so I made my way up there. The inspector asked where I was coming from. I looked down at the 2 foot piñata I was carrying and said Mexico. I reminded him I was trying to catch a flight and he let me pass. I then through my duffel on the belt and sprinted toward the gate. I jumped a shuttle train and road it to the next domestic terminal. I got to the gate after they had closed the door and were making the last call for passengers. She asked if I was just getting in from Mexico City. I looked at my piñata again and replied yes. Anyhow…I ran through the door and to the plane, finding my seat, but no room for the horse piñata. A flight attendant took it up to first class and put it in the closet. We sat at the gate for another 20 mins so that the brakes could be fixed so I called Debbie from the phone in the plane telling her what flight I was on. Almost home!  Got back to St Louis and the kids were waiting for me at the gate! Waiting awhile for the baggage to come then headed home, stopping at Steak and Shake on the way home. It is good to be home!