I have always heard people laugh when they hear people describe Old Rag Mountain in the northern Virginia Blue Ridge Mountains. They laugh when others compare it to bigger, more serious mountains elsewhere in the United States. I always smiled too and but hiking it yesterday; I found I really enjoyed its challenging ridge trail to its summit. It would definitely be fun in full winter dress when a hiker has ice and snow to complicate the route…hmmmm seems like a plan for Jan 99…
Clete, an officemate, and my son, Ben, and I had agreed last week to hike the mountain yesterday. We got an early start from Springfield and arrived at the trailhead at about 7:30am. We drove straight by the empty 200+ car overflow lot; getting a mile closer to the trailhead where we found one last spot.
We arranged our packs and headed off down the fire road promptly missing the trail completely. We knew there was something not right, so we backtracked to the parking area and headed off up the right trail called the Ridge Trail. Although it had been a clear night and frost was on the ground we quickly shed layers as we continued to switchback up through the multi colored fall forest.
As we climbed higher, stopping only for vista viewing or tending to a blister on Ben's heel, the sun rose higher in the morning sky. The bright sun highlighted the surrounding mountains against a bright blue sky typical of our west. After gaining the ridge, the fun began with Clete leading the way up the steps.
The steps consisted of pillars, rock formations, tunnels, and chimneys the trail negotiated as it worked its way up the ridge. Often times you have to climb up or drop onto a ledge to continue.   Arrows painted on rocks marked the way. It was just plain fun and reminded me of the mountain ridges out west where route finding was important. Here the trail was blazed, but it did not dull our enthusiasm.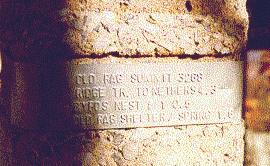 We reached the summit     a little after 10:00am and found a great place to bask in the sun while we ate our lunch of Turkey subs for Clete (inside joke) and cheese and brotchen for Ben and me. Our vista included the central part of Shenandoah National Park and its foothills. After lingering after lunch we headed down the opposite side. This trail was well constructed and used switchbacks to steadily drop in elevation, past two day-use shelters. Halfway down it met a forest fire road and we used that to complete our hike back to the car.
Now when I hear people talk about climbing Old Rag, I will still smile, but now because I know how much fun it can be to negotiate the Ridge trail. The caution is to go early for when we left, the 200+ car overflow lot was almost full!
Beta: 7.1 Miles Roundtrip, 4 hours, Difficulty: Moderate up, easy down, Elevation gain 2200'