Challenges are what keeps me alive. In December 2015, a cycling friend, Mike, confided in me that he was developing a series of rides in 2016 that would have participant ride a century (100 miles) in each month of the year.  I thought about it for a minute and told him I was in.
The challenge is multi fold; we would be riding in cold and hot weather throughout the year and must get the ride in sometime during each month. Weather would drive lot of choices for this challenge.  The challenge itself, a century a month is not particularly hard mileage wise, but it does take commitment, time, and effort to get out there each month and ride it…like running a marathon each month for a year.
1200 miles total…
Jan 9th, 2016 dawned, grey, damp, and chilly at 43 degrees as a handful of riders gathered at a local park to start the first of 12 centuries (100 miles), one a month, for the 2016 Century of the Month Club.  The core of this group was Mike, Richard, Dave, Nora, Dan, and myself. Mike had picked a well known local route for our first century and we completed the 104 miles in 6:02 at 17.3 mph average speed. Except for being damp and chilled at the finish, everyone did it in pretty good style.
February's century had something the first one did not, the sun!  Unfortunately it was also was colder at 37 degrees…but we still had more riders than the first one, most notably Jeff, Baron, and Thomas joined us.  This ride was two separate loops of 50 miles with the last lap being the hardest in my opinion.  We traded debates on closing the gap and generally had a smooth, but tough ride due to the weather.  On the last lap we came upon a guy who had rolled his car on dry, clear roads…he was fine but I think he had some explaining to do with the Trooper investigating the accident.  The core group all attempted and completed this ride as well.
In March I was away on business on the day designated for the ride so on March 9th, I planned and executed my own 103 mile ride from home west into the foothills by Culpeper. I would end up doing three of the rides in 2016 solo and to be honest I find them quite enjoyable.  It takes a bit more mental strength to go along with the extra physical excretion of riding without any assistance from teammates, but I have a long history of solo hiking, climbing and cycling…so I am used to it.  This first solo century went very well and it turned out to be a beautiful route!
The club ride route for the April did not suit me at all; it was on some 4 lane roads I had no desire to ride on and the day of the century was wet and windy, so I deferred on riding with the club. I waited instead until April 17th and road my March century route again with Dan, Baron, and Dave.  The weather was pleasant at 57 degrees and while we averaged the same as I had done solo , 16.6mph, we took an hour longer.  The 7 hours and 37 minutes total elapsed time would be the longest ride of the year…we must have been sightseeing too much!
May was planned century on the Eastern Shore called the Six Pillars ride.  The benefit to this ride was that it was nearly flat.  Most of the rides we did throughout the year averaged 3500′ elevation gain over 100 miles, this ride only had 393 feet!  Dan, Mike and Paul and I rode as the core team and we averaged 18.6 mph, the highest MPH avg of the year although not the fastest one in time.  Because it was a supported ride, there were more rest stops, so we dallied every so slightly more.  The day started damp, but the sun came through mid morning and dried the roads with a slight breeze and 57 degree temperature.
For the June monthly ride, I again deferred on the club route and timing…I cannot remember if I was out of town or the weather caused a postponement but waited until the 15th on weekday when the weather was 68 degrees and partly cloudy and again rode the beautiful century route I had developed in the spring.  The wind picked up after the first 50 miles and slowed my pace but it was still fun.  This would be my 2nd solo ride of the year and again I averaged 16.6mph and completed it in 6 hours.  Some of the scenes on this route are beautiful!
The ride for July coincided with the 4th of July holiday so we had a big turn out and even Scott from NM arrived in time to ride as well as Adam and others.  It was a strong group and we blazed the now famous scenic route in 5 hours 30 minutes at 18.2 mph.  This would prove to be my 2nd fastest century in 2016. We hummed along on this ride!
The most important fact about this ride was it was Adam's first century in over a year after battling a tough medical issue.  Adam was strong and clearly "back"!
August's planned ride was from Jamestown to Fredericksburg and involved an overnight camping trip in very warm weather…. very warm!  I again deferred on this ride and developed my own route all on nearby roads and scheduled it for a Friday along with Dave and Baron.  It was called the Joker's Running Wild, something I saw in the map…see if you can visualize it.  It was still a warm 77 degrees,  but a beautiful day and we kept a good pace, completing it in 5 hours 55 minutes.
September's ride was the Fredericksburg Cycling Club (FCC) Annual Century, The Cannonball Century. Adam rode with us again and we had a strong pace line with Tiffany and Dave on board, averaging 18.1 mph finishing in 5 hours 34 minutes. It was a pleasant 57 degrees for this ride and strong pace line riding over the entire route, including a fun sprint into the finish.
On Oct 10, Columbus Day Mike led a century that traversed the ground between Warrenton and Culpeper VA… but also on some new, interesting roads. Dave and I rode this century with him after we moved it from the previous Saturday due to a poor weather forecast calling for high winds.  It was cold at the start, actually very cold,  and windy throughout the ride slowing our pace to 16.5 mph average.
What to do about Nov?  The club ride was delayed for this month as Mike had other commitments the first Saturday of the month.  I was also watching the weather as the temps were finally starting to fall like they should in the winter. I noted that on the 3rd of November a warm front was coming through pushing temps to almost 70…I had to take the day off and complete the 11th century.
I developed a 13 mile circuit starting from my house and then started riding at 8:00am, coming into the pits every 2 laps.  It was enlightening not to have carry much with me but a gel and one water bottle and I enjoyed this unique experience.  Again, mental toughness was tested as much as physical on any course like this circuit. What was nice was knocking it off very early in the month, riding in warm temps, and the support pit stops helped keep my pace high, averaging 17 mph solo.
The final December century was a  remake of an old club century route, according to what folks told Mike.  I took a look at the route a week before the ride and I was "in".   The 100 miles would have about 3000′ elevation gain and go south, making a couple of loops along the way.  The morning was cold, about 39 degrees at the start and would rise to about 46 degrees.  There was a wind from the north that would dog us all day, but we had a strong 7 person pace line that we stayed in formation for the entire ride.
With only two short stops at the 39 and 67 mile point, this was a fast century.  Averaging 18.5mph, out moving time was 5.26 and total time at 5.56!…the fastest century of the year!  What the fasted one of he year? In December in cold weather?, with a wind?, with 3000′ elevation gain?  Yes it was! We had booked around this course!
I  am glad I stuck with the challenge was one of the six folks who completed the challenge as it was set up by Mike.  I did alter some courses for weather, scheduling, or esthetics and as a result I developed and added some rather unique factors to my challenge.
I stayed on the type of roads I wanted to ride
I completed one century route just in the local riding area using out and back methodology with two good friends, Baron and Dave (August 2016)
I completed 8 laps of a circuit course of only 13 miles for 100 miles (Nov 2016)
I rode 3 centuries solo
Some of the data points from the challenge for me.
1225 miles total and 40,360′ feet of climbing
Avg time and speed:  5:74 hours and 17.3 mph
Avg power watts: 223
Avg elevation gain 3363′ per ride
Kudos and thanks to Mike for developing the concept and leading so many of the rides…it was generally a blast and it was a challenge!   Also a big thank you to all my local and Strava cycling friends from afar who rode with me and provided support to me during this challenge… A challenge now completed!
Beta: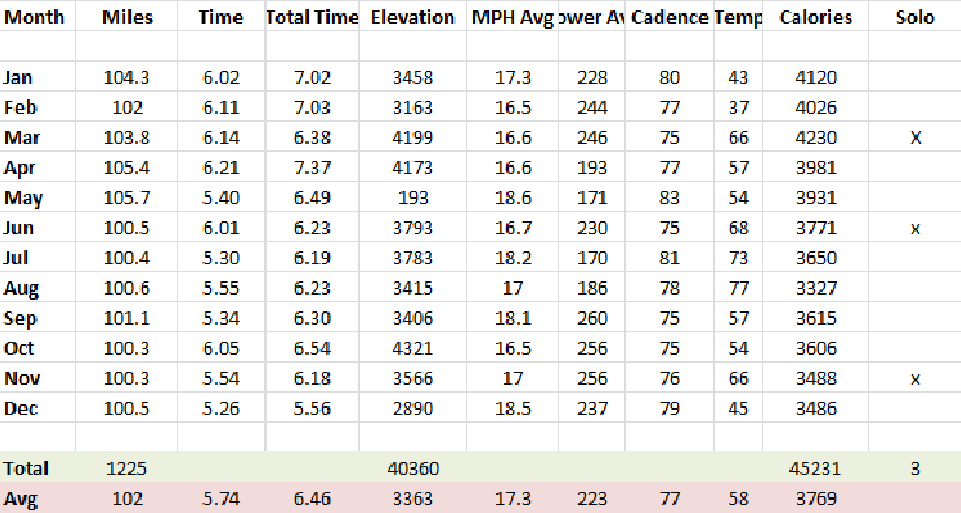 Video of last century route here!
*Pictures by Bob except the ones of me riding…Mike took those.