17 Straight Weekends of Rain…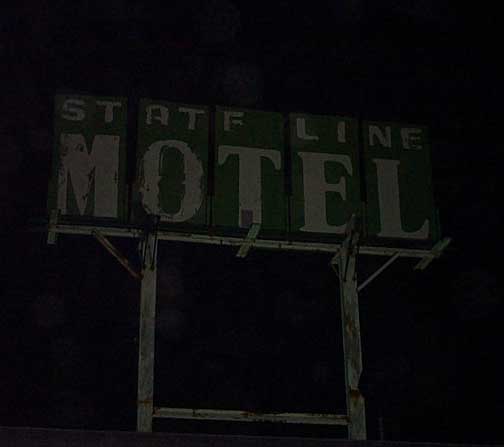 CIRCA June 1999:   "When I changed my plan in midstream in my  1999 Capitol 1000 Motorcycle Rally it made sense to me. Of course that was at 2pm outside of Charleston, West Virginia on a hot, sunny day where the thermometer would climb into the mid 90's. Now at 2am as I was going down a small road in Maryland in the midst of a "gully washer" headed toward the southernmost tip of the Western shore, the murmurs were loud and dancing in my head."
Fast Forward June 2003: As I circled Richmond VA on 295 and started to enter the ramp for I-64 east lightning danced across the sky.  Surely it was heat lightning and not the 17th weekend in a row it would rain in VA. I quickly pulled over and zipped all Stich openings closed. Less than 5 minutes later I am in the midst of the second most intense gully washer I have ever experienced. I could not believe I was experiencing the same event from 4 years earlier… but I was and it was about to alter my plans and execution of the 2003 Fearless Cap 1000 Rally.
2003 Story
When Todd and Brent announced they were reviving the Cap 1000 for 2003, I knew I would ride it in prep for another ride later this summer.  It had been my first rally, it was close, and it goes through beautiful country.  I also knew I would be seeing some old friends and was pleased when I heard Mark Elledge was also attending.  We talked and I agreed to ride up to Springfield VA and meet him and then ride up together.  We realized we were hungry when we arrived so off to the famous steak house for some food!  Before we can order, Todd and Brent arrive and after not seeing each other for almost 3 years (see I left the country for a while – no warrants, just business), we revitalize our friendship quickly – none of us looked any older! 🙂
Time to get to work now and get the 10 mile odometer check complete before that thunderstorm cell moved over.  Happily, they took us north rather than south during Hagerstown rush hour on I-81.  I stayed dry for exactly 8 miles of that 10 mile trip, before the heavens opened up.  Since it was already raining, I decided to top off the gas so I would not have to go out later. Hanging the Stich up to dry, I chatted with Brent and Todd in their spacious circus tent, and then had dinner with my newest friend, John Atkinson from Ontario, Canada.  Afterwards, a simple, low key, informative, riders meeting where it was announced the same bonuses in 99 would now be used 4 years later, but with adjusted point values! If I had only loaded those bonuses!
Mark and I retired to our rooms and kibitz over our shoulders as we both worked the route.  Pretty soon, we each had a route, that if we could ride error free and finish the route would be a winner or a top 3 was our guess.
I loaded the GPS, checked on the waterlogged bike, and headed to bed by 11:45pm.  A lot of good that did as I got about 1 hour of sleep that night…not the start to a 24 rally you want and it would come back to haunt me in about 25 hours…
Daybreak came and we all broke out for the 6:15am driver's mtg where a wildcard bonus worth a lot of points was handed out and Mark and I both added it to our routes.  Something would have to give soon as our route was over 24 hours according to the computer. I was the 17th rider to leave and headed west on I-70 toward West Virginia. I rode most of the way to Wheeling with a Charles Huber, riding a Harley and Vern Hauk, (I think) on a BMW RT? After locating our first mandatory gas stop we headed south toward Charleston WV.
Charles and Vern peeled off for Hundred WV, a large bonus on twisty roads but I kept focused on my plan at Paden City, where I met Mark at the American Legion.  We would see each other off and on throughout the rally. Each of our plans called for discipline as the majority of our bonus points would not come until halfway through the rally.
After riding east for a few hours after Charleston, WV I arrived at Charlottesville, VA and got gas with Paul Pelland. Along this leg however I could not get my cell phone to work and figured a wire had worked its way loose.  It was a hot day so when I pulled off the road to look at the bike, I pulled into a highway mx barn in the shade to look at the bike.
I left just a bit before Paul but a short cut by him had us together on the way to Todd and Brent's first Ironbutt Hotel, a small post office in the middle of nowhere. Luckily, Paul had inserted it as a waypoint and we just droned north on a nice country road knowing each mile was taking us farther away from the next bonus south of Richmond.  We found it, and recorded the RIGHT answer…the FULL mailing address.  Later we would find out 3-4 riders left points on the table at this bonus for just recording the large address.
Paul took off while I took the time to turn on some tunes for the next leg. Back to I-64, south to Richmond as night approached. Reaching Lawrenceville at night fall, I found that the college there was founded in 1883. I passed Paul heading out as I headed in.
After this bonus, I realized I needed to "reset" for night riding.
This is new strategy I have adopted… after riding all day and at a good pace, darkness brings a whole new set of variables and safety issues you must address. I pulled over in a gas station where every kid in town had his high pitch muffler car revved up, screeching through the lot. Ignoring them, I took my stich off to get some air, fueled, had an apple, cleaned my visor, threw water on my face, cleaned my windshield and essentially "reset" for the night.  It was exactly the right thing to do and I have added it to my future riding schedule.  When I got back on I-95, I felt better, had better visibility, kept slower speeds and was more alert to the dangers of the night, specifically on I-95!
Cutting over before Richmond I find myself on I-295 getting ready to turn east on I-64 and grab the high point bonus of Saluda.  That's when I saw the before mentioned lightning. I used my cell phone interfaced through my AUTOCOM to call for a weather report and was told "scattered thunderstorms in the area".  Yes, they were scattered right out in front of me. I went from dry to a full gully washer in 100 yards and as I reached the turn off for West Point VA, the wind picks up.  The running water on the road and debris from trees start showing. Then this flashing sign that said the bridge was closed. It said the 17th, but I could not remember what the date was so I thought this was an evil trick by Todd because he kept mentioning ferries at the meeting.
Forging ahead, I found the bridge open and I crossed the James River in a full thunderstorm and got into West Point.  I actually felt it was safer to keep going as water flowed inches deep everywhere on the road. On the other side of West Point I spied a bank with a drive through teller with a roof and ducked under it to reevaluate the situation. I called for another weather report. "Scattered showers went all the way back to Charlottesville and went north up to Wash DC and Baltimore"…not good.  Jumping back on the bike, I convinced myself the rain had lessened, but perhaps it was just that my attention was on the lightning.  I had a close call with lightning on a climbing trip once and we had just discussed it on the ST list a few weeks ago.
Keeping a steady 30-40 mph in the rain can wear you down and for me, I often lose track of time.  Sometime I can't remember if I have been riding for 30 mins for 2 hours.  I got to Saluda, stopped at the Exxon gas station and went in to ask where the museum annex was.  The teller said I was the second person in 30 mins to ask and pointed me across the street.  I walked over and found the number, (745), and as I was filling out my log book, she shut down all outside lights- the station was closing at midnight or so.
This is where my rally plans got derailed. I started back up RT17 with the PIAAs blazing, but all they were doing was lighting up the heavy rain and fog.  With the lack of sleep the night before, I started to wear down.  Time to try and get some rest, first in Port Royal – too wet, then across the bridge into Maryland at the rest stop – too wet.  At this point I knew Point Lookout was out this year…I needed to focus on rest where I found it in Waldorf MD on the side of a large, brand new gas station complex. I parked the bike, sat on the sidewalk with my head against the building with the screaming meanie in my hand for 1 hour and promptly dozed off. A police woman headed in for some coffee asked if I was ok and I said yes, just resting.  After about 45 mins I awoke, refreshed and went in and got a cappuccino.
The rain had stopped and I headed through Waldorf towards the finish intent on now getting Gettysburg.  As I approached the beltway on Rt 5 my SPIII wanted to route me through Wash DC rather than around on the beltway. I have no idea what I was thinking but I decided to see where it took me.  It "took" me within sight of the Capital Building and dropped me off in a very bad neighborhood where it promptly got confused and lost.  There are a lot of people out at night in DC at 3:00am…but I didn't want to be one of them. I promptly executed a U turn and rode all the way back to the beltway — probably going the long way.
Heading up I-270, I did the calculations to see if I could get Gettysburg and finish on time, losing no points. It would be close. I got to Frederick and spent 4 minutes filling up and I was soon headed to Gettysburg in short order.  The village was great at 6:00 on a Sunday… quiet, peaceful, and no traffic.  The directions to the very tall tower were correct and up I climbed, keeping all my gear on.  Eisenhower bought his farm in 1950 (the answer) in that area.  Mounting up I saw Mark looking for the tower and gave him some directions then I jumped on 30W toward the finish.
The GPS said I would arrive at 6:57am, which I did!  I would go on to have gathered 9007 points, leaving none on the table and finishing 8th.  Respectable.  Brent and Todd put on a down home casual fun rally and whether you are a veteran or a new participant, you get treated equally – fun for all; highly recommended!
Stats:
Miles Points Time # of stops
1226  9006    23:49      8