Gerlachfest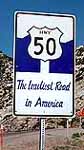 The air is clear, cold and fresh as I motor west on I-70 in Utah…clearly it was a good idea to wait out the rainstorm at the hotel and not leave until 7:00am.  As I got on the highway at Green River, Utah, I listened to two truckers describe overturned trucks and whiteout conditions.  While I knew the 2nd wave of the unexpected winter storm had just passed through I assumed they were talking about northern Utah as I had come through the worst of it the day before over Vail and Loveland passes in Colorado.
I continue on in blissful ignorance, gaining altitude to ascend the Emigrant Pass at almost 10,000′. While I see snow up higher, the roads here are clear, but wet. As I nearly reach the crest of the summit, traveling at near the speed limit of 75mph, I first note an overturned semi-truck on the left lane into the median and a large pickup truck with a large white trailer jackknifed on the left shoulder.
But as I shift my gaze back to my lane, I see something worse… a very large white semi-truck slanted across both of the west bound lanes, losing traction trying to reach the crest. I pull hard on the brakes and get down to 35mph or so and at that point start to lose the front end…in a heartbeat I went to wet pavement to complete glare ice.
My feet instinctually drop to the road and I down shift to 2nd.  Now I am going about 15 mph and the truck looms large in my face shield. I have about 10 seconds to make a decision…I actually wish it would have been shorter. I had three options…stop, try to skirt the left shoulder, or try and skirt the right shoulder. I felt if I stopped I would simply fall over on the ice in the middle of the interstate and not be able to get going again. As I got within 20 feet of the truck the options looked the same so I nimbly leaned slightly to the right and prayed I would miss the back in the truck or it would not start backing up. As I got within 10 feet I could hear and see the semi spinning his tires, trying to gain traction…hoping I would clear the end, I passed onto the shoulder where there was a thicker ice buildup and cleared the back by 1-2 feet. I never looked back…
Because I was now at the true crest of the summit, still on sheer ice, but still upright. I spent the next 30 mins carefully descending the pass, still on ice, taking shady corners with no lean angle at all.  It wasn't until 45 mins later when I had descended 2,000′ that I took a breath… I continued another 20 miles down the pass at about 25 mph, still stunned by what had just happened as I watched police cars and snow plows ascend from the opposite direction. As I got back to clear pavement, I twisted the throttle and rolled into Salina , Utah to take a break and compose my thoughts…
————————————————————–
This little encounter with glare ice caught my attention during my 2300 mile weekend ride from Colorado to Gerlach, Nevada for the annual Long Distance riding gathering on the playa.  I awoke on Thursday morning to pounding rain and high winds in Colorado Springs so I knew that the first winter storm in the Rockies was making contact. I monitored the CDOT web cams on I-70 through the morning and fretted about whether I would make it over Loveland and Vail pass at 11,000.
By afternoon, the sun had come out in foothills so I dressed in my cold weather gear and headed into the mountains west of Denver . It felt good to be on the bike again, knowing it would be my home for 3-4 days.  I had been hit pretty hard by a death of a friend, Bud, earlier in the month, and had not yet recovered. I would think about him often on this trip and also while in Gerlach. About 45 minutes out from Loveland pass, I pulled over on an exit to turn up my electrics as the temperatures had dropped into the low 30's and it was snowing.  I saw a news truck taking footage for the evening news of the first snowfall and pledged not to become part of any news story through any folly with this weather…I could always turn around.
When you are riding a motorcycle, sometimes the start of bad weather doesn't immediately register. Sure, you see the snow or the rain, but you are inside of a dry cocoon and it takes a bit to register. As I approached the tunnel entrance, it was snowing heavily, but the roads, while they had some build up on them, were not slippery. I safely made it over the passes and worked my way through heavy rain on the twisting portions of I-70 at Glenwood Springs before emerging to the cloudy but dry skies of Grand Junction.
Although I had planned on stopping here, I had gas courtesy of my new aux fuel tank so I rolled on into Utah to Green River, where I spied a motel with rooms opening outside where I could park my bike and grabbed a $40 room from Zane, the manager, who gave me a nice room right up front. I would revisit this motel and the same room 3 nights later.
The next morning I had that encounter with the trucks and ice describe in the opening…
After composing my thoughts after that incident, I verified by shortcut over to I15 was in the valleys and not through the high snowy mountains all around me.  Making quick time over to Route 50, I started the long journey across Nevada on the "Loneliest Road in America", US Route 50.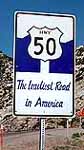 A sunny cool day, a two lane road that stretches to the horizon, traversing at least 10 small plateaus or passes at 9000′, sweeping curves, and little to no traffic described my next 6 hours. Speed, distance and time blur…if that stretch of road I see in front of me 5 miles or 25 miles long?…hard to tell in the Nevada desert.  It is a route I planned to take for some three months and I am glad I did as it was quite an experience.
What I did not know if I gained an hour in Nevada so I had called Tom from the bike saying I would be late for the banquet…turned out I made it with an hour to spare.  Gassing up in Fernley, the last stop before venturing 77 miles straight into the desert, I saw Heidi, another LDRider, making her last cell phone call before we lost reception.
Friday's dinner was welcome after riding some 11 hours and over 800 miles and I slept well in the fantastic accommodations of Bruno's Hotel and Casino.
The next morning I had a great breakfast with Bob and Elise, and Ira and then got ready for part one of the annual fun competition.  This year it was a listening comprehension exercise, GPS navigation exercise and of course a shooting competition, shooting the most powerful handgun in the world, the Smith and Wesson Model 500 .50 cal.
Of course there was open honest trickery and deceit dealt out by Tom on the GPS portion, where if you did not listen closely, you ended up standing on the wrong side of the river from the waypoint you were supposed to find after a 60 mile ride.  The listening comprehension test was failed by 95% of the folks, including me, but fun nevertheless.
Then we all headed out to the vast expanse of nothing called the playa where the burning man festival is held each labor day. We each had three bullets to hit a target of a curious looking fellow on a simple wooded target from 50 paces. The gun bucked like a horse, but no one dropped it.
Later that night was a great banquet put on by Bruno and then the capstone event, the bonfire on the playa. There were the frivolous moments and the solemn ones as we remembered riders who had fallen before, including Bud during his first rally.  The stars were incredible, the dark sky almost white, from the Milky Way splashed across the black expanse.  There was some fire walking and various other forms of celebration as well.
Back in the room at midnight, I planned a 6:00am departure, and knew the first 77 miles would be in the dark and I would have to be watchful for open range cattle, deer, and other small critters.  I was back in Fernley in about 90 minutes where I headed east on I-80 after filling both gas tanks, just as the sun was rising.
After passing through the border of Utah at Wendover I able to see the smell the Salt Flats for the first time. Quite interesting. Within an hour I would see the Great Salt Lake and the Wasatch mountains towering over Salt Lake City.
There is not one curve for 60+ miles from the NV border to the edge of Salt Lake City! There are signs along the interstate I had not seen before about pulling over if you are fatigued and that drowsiness kills… zzzzzzz … agree.
As I am in the zone, listening to Howard Stern's show on my Sirius radio, I suddenly see a flock of small birds flying low and fast across the road in front of me. As I judge their velocity, it is apparent not all of the flock will clear my Goldwing as I am traveling at prudent western speeds. I judge correctly and one, maybe two birds impact the front of the bike…soon I am engulfed in feathers…may they rest in peace (pieces).  The body pieces would remain on the bike until I got home later the next day and they prove stubborn in their resistance to my scrubbing…
I made my way through Salt Lake City in the HOV lane down to Provo, Utah where I picked up Route 6 southeast toward Green River .  What a beautiful road, through beautiful country.  Most of the traffic was headed back towards Salt Lake City after their weekend outing, large SUV's pulling huge boats, presumably from Lake Mead . I "drifted" into Green River around 5pm after logging another 800 miles.  Treating myself to a huge dinner, I sat on the banks of the Green River by the John Wesley Powell Museum and watched the sun set on the Book Cliffs that tower in the distance.
After a great night's sleep, and with an early departure I was back home by 1:00pm, encountering dry roads, sunny skies and the snow covered Rocky Mountains.
I felt refreshed, added some adventure to my life, and ready to face the winter months ahead. I still think of Bud often and wonder what could have been, but was inspired by a short discussion on life Toby and I had on the playa.  It was a lonely ride down the loneliest highway in America, but one worth taking…