Three couples, three bikes, gaining more and more 2 UP experiences… doing what we do best,  RTE (Riding to Eat)!  While I have been riding a motorcycle since 1998, 99% of my riding has been solo for many reasons.  Usually my riding was long distance stuff, some competitive, all point A to point B riding. I always needed to get to "somewhere" in all my riding. With the purchase of a Goldwing, my excuses dwindled why Debbie and I should not ride together. Before I had never wanted her and me on the same bike at the same place in time for safety reasons. I was starting to soften on that outlook and Debbie seemed game to try it out so we bought her all the matching right equipment from Aerostich and we have started to take day rides.
Today would be our farthest, heading west, around Pikes Peak,  across the South Park area, and then up and over the 11,000′ Hoosier Pass down into Breckenridge.  Paul and Dawn would be riding their bike and Ron and De would be riding their Goldwing also.  We got a hectic start at a very busy Starbucks in Old Colorado City and were on our way by 9:00am.  Heading west through the mountains we made good time to a stop at Wilkerson Pass where we stretched our legs, observed blue birds feeding their young in a forest service provided home, and enjoyed one of the prettiest days in 2007 in Colorado.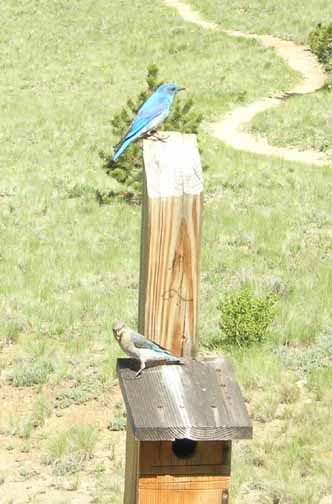 Paul and Dawn then led us through Fairplay and up and over Hoosier Pass where Ron and De got an opportunity to scrape a peg on the descent in the twisties.  The mountains are now snow striped and Quandary Peak looked magnificent against the dark blue sky.  Arriving in Breckenridge, we unloaded and stowed our gear and struck off across the river to downtown and Bubba Gump Shrimp Restaurant where we enjoyed a nice meal on their outdoor deck enjoying the views of the peaks.
It  was obvious we should have not ordered the bread pudding, moose pie, or the cookie to top lunch off as we were forced to walk it off by making a loop through downtown before heading back to the bikes.
The Ride Home
The weather was warm, almost hot, and storm clouds were already building over the pass. As we were on our way up the pass Ron said over the CB he hoped the rain would hold off until we made it up the "s" and hairpin turns. I assured him that I thought it would…then I turned the corner and met a downpour head on.   The tight corners became even tighter, but we all made it to the top in good standing while we waited for Paul and Dawn who stopped at a gourmet jerky stand to get some for their sons.
Descending from the pass we saw lightening in the distance, but I judged that we would be able to skirt that band of showers.  We mostly did, but encountered strong gusty crosswinds as we sliced through the broad expanse called South Park. The bikes did the auto lean function in the winds.
As we approached Pikes Peak near the end of our journey I was complimenting Ron on how he kept skirting some very nasty storm clouds and it looked like we might make Woodland Park, feet dry.  No sooner had we finished that conversation when a gully washer of a rain commenced, with hail somewhere between the size of golf balls to beach balls pelting us and the bikes. Visibility was reduced to zero, but we had no option except to continue as there was no shelter.  Paul would tell me later he had welts on his arms from the hail.  I just remember the hail hitting my windshield and splattering like a snowball in the size of ping pong balls.
We did the best we could and Debbie commented later that the episode did not even bother her given the gear she had so I had to give her many compliments later on what a trooper of a partner she was on her first long ride! After we got through the hail, we had heavy rain for about 10 minutes more before we reached the pass down into Colorado Springs. The light rain tampered off to warm sunshine down in the city. We arrived back to the house at about 3:30pm with threatening skies, but no more rain. Paul and Dawn and Ron and De also arrived home safely.
It was a great ride to experience all of things that I have experienced solo in riding (if I am to go on a long ride, it WILL rain) two up and not have any issues.  The friendship and food was excellent and as I mentioned, it was a nice safe ride.  Of course we have no pictures of the storm or the mean looking clouds, but I learned that the passenger can probably put the camera in her jacket and take pictures on the fly…so next time!
246 miles Round Trip