"450 miles for a $1 beer…"
 A call to assist at the tech inspection for the 2007 Iron Butt Rally in St Louis (Chesterfield, MO) led to take a quick unplanned trip there from Colorado.  The last time I had ridden across Kansas was July 4th, 2006 when I went to visit my Mom and Dad in Indiana. That had been a 2600 mile round trip over a weekend, this would only be 1600 miles so I pumped to go see friends at the start of the rally.  After working the 2005 tech inspection with Dale, I knew it was worthy work and they there would be a long line of folks that needed inspecting early Saturday morning.
In that before mentioned 2006 ride, I had done 1200 miles that first day and had a terrible time waking up. I think I had "slept" through my entire time through Kansas and Missouri and I did not want to repeat that experience. I left about an hour later, about 0430 in pleasant temperatures and partly cloudy skies. On this leg I was going to take a detour that would add about 70 miles and an hour plus to the trip to meet yet another longtime friend I knew from the Internet in Hope, Kansas.
I had known Larry, AKA "Dynamo", for at least two years and have always threatened to visit him, but never got around to it.  The final straw was not being invited to his 50th birthday party a few months ago so I said now or never!
I was quite alert riding in the dark and when the sun came up approaching the Kansas border, I stayed fully awake, but not looking forward to the heat that would soon develop. The Goldwing hummed down the highway and my first gas stop was not for 385 miles as I had aux gas on board.  A quick fuel transfer and I was back on the road to the turn off at Salina, Kansas where I called Larry and told him I was an hour out. I had thought I would be at his house at 1130 but my later start made it more like 1228 according to the GPS.  I hit some two lane back roads as the heat "crescendo'ed" to 97 degrees.  A couple of false rises almost brought the front wheel off the ground at the closing pace I was riding. I pulled into his farm and parked under the first shade tree I could find next to his pool.
Larry welcomed me with a cool, air conditioned house and huge mug of ice tea. We both knew my stop would be brief so we quickly traded information and conversation. Once I was cooled down, I dunked my new cool vest and neck wrap in the sink to hydrate and we went outside to see the pool area. Larry had designed and built a "club house" and in ground pool which appeared to be the place to be in Hope Kansas. An old soda machine now housed cold beer for $1 under the patio. While the pool looked inviting I knew it was only going to get hotter and I still had 400 miles to go and the beer here was too expensive so I suited up in my cool vest for departure.
Getting back to I-70 east bound took about 35 minutes and it was across the final part of Kansas to Kansas City where I got through "most of it" before I came to a complete stop on Friday I-70 rush hour traffic…the gauge on my bike read 100 degrees and the coolant gauge on my bike started to shoot upward. Probably what seemed like an eternity was really 10 minutes before traffic eased and we started moving.
Having ridden across Missouri so much I know Columbia is the half-way point and it came and went as the temps and the humidity hovered around 100 each. At the last rest stop about 1.5 hours from St Louis, it became apparent that even my Darien was too much for this heat. I was either going to fall off the bike from heat exhaustion or if I crashed, get scraped up…I took my jacket off and stowed it in the trunk.  That was only the 2nd time I had done that, with the first being the in Atlanta in Aug 03 on the IBR.  Taking the jacket off allowed me to finish the ride to the rally hotel, arriving at 1900.
A quick shower eased the painful memories and soon I was in the hotel's sports bar ordering a great dinner and lots of water.  Art joined me, having arrived from Phoenix that day to also do tech inspection. Dale asked us to meet at 0730 so we could start tech inspection at 0800.
By 0800, with Rob Nye at the front, a line had formed. and we started; working through the day until the line was finally extinguished about 1500. From then until 1700, we handled additional 4 – 5 riders.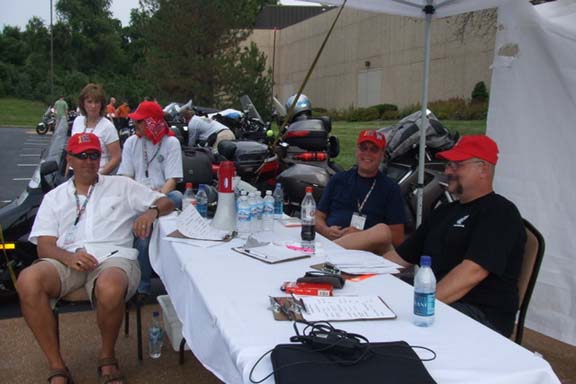 Two bikes during the day caught by eye:
When the finally tally was done, Dale said he had done about 97 out of the 100 riders that were registered. With that knowledge in hand, I decided an early morning departure was in order to beat the heat. Dale assured me he had more than enough resources to handle the last couple of riders through tech inspection on Sunday. BMW MOA put on a  dinner for all riders and staff Saturday night and afterwards I prepped the bike right before a MAJOR thunderstorm rolled in…now probably a sign of things later to come for the IBR riders later on Monday.
I set the alarm for 0300 and was on the road by 0335 on slightly damp roads, warm, moist air, and clearing skies. I had a 1/2 tank of gas left so I ran that 100 miles west through Missouri before stopping to top off all tanks. Of course I had been riding through rain for most of that on I-70 passing truck after truck in the dark.  After gassing up, I grabbed my receipt and examined it while sipping on a vanilla cappuccino. I noted I was now in Clearwater Florida!  Huh??? I looked again and sure enough the receipt said Florida. Perhaps it was only for the credit verification service, but it paused my muddled mind to think, I did turn west didn't I? 🙂  I could only hope no IBR rider uses this gas station going west and needs a good receipt!
As I approached Kansas City the sun started appear through the clouds to my back. I took a detour because I-670 was closed in Kansas City then stopped at the Toll Way rest area for a coke and a breakfast biscuit. After that it was sit and twist throughout Kansas where the temps never got above 93 degrees.
The closer I got to Colorado, the cooler it felt. I had talked to Debbie a couple of times on my arrival and yes, I was fibbing a bit telling her I had not been able to leave until after 1000.  So she was not very believing when I called her the last time at 1600 and asked her to raise the garage door when she was not expecting before late that night… she thought I was joking…so it was a nice surprise to roll in. Always glad when I can assist the LDRiding community and the IBA and see friends. The ride had rekindled that LDR spirit on a moment's notice.